26/6/10: Still Here
First of all, yes, apologies for not updating this site in almost two months, but I'm having a devil of a busy time right now. Concocting trivia nights for the bar, doing ZP, working on games, working on books, working on my tan, one or two other paid projects that keep looming overhead, and of course I just moved house and my internet won't be on for weeks, apparently, so I'm having to come into the bar to use the wi-fi. Christ, I'd be useless in a pre-industrial civilization.
Also, I'm starting to hate how cluttered this site is with old work, a lot of which is shite, so I'm thinking of jamming everything higgledy-piggledy into a big cupboard and bracing the door shut (incidentally how my home accounting system works) and just redirecting the URL to a Blogger account or something. Even that may be more work than I'm inclined to do. Ah well.
ZPs: Splinter Cell Conviction, Nier, Dead To Rights Retribution, Monster Hunter Tri (got into a right load of shit for that one, I tell ye that), Alan Wake, Red Dead Redemption, Alpha Protocol and PoP: Forgotten Sands.
Also, Rebecca Mayes either loves me or wants me dead. It's a little unclear.
updates - features - essays - reviews - comics - games - novels - about - contact - forum - links
Previously on Fully Ramblomatic...

1/5/10: Quizzle Me This
ZPs: God of War 3, Red Steel 2, Just Cause 2 and Silent Hill Shattered Memories.
Trivia night at the Mana Bar has proved popular and more to the point quite enjoyable for me to do, so it's a regular thing now. Every other Tuesday, and there'll be another on this Tuesday night. I'd like to put a call out for more clever people who know lots of gaming and general knowledge trivia to come along and ensure that Team Destructoid don't win for the third time. We kick off at 7 (team registration from 6:30) but it's best to show up as early as you can to be sure of getting in. 50 person venue, don't forget.
In other news, Mogworld can now be preordered from Amazon UK! Only 5 English pounds! Which is good, because you probably need a British sense of humour to 'get' it.
updates - features - essays - reviews - comics - games - novels - about - contact - forum - links
Previously on Fully Ramblomatic...

4/4/10: Making Out With An Amazon
ZPs: Battlefield: Bad Company 2 (ugh) and Final Fantasy XIII (urrrrrgh).
The last trivia night at the Mana Bar went well. Everyone was on board, there was drinking, laughter, friendships were made that would last a lifetime. So I'm doing it again this Tuesday, the 6th. Bring five friends. And ideally show up about seven hours before it starts if you want to get in.
Hey, remember that book I wrote that I keep talking about? The one that's coming out in August from Dark Horse Books? Well, now you can preorder it on Amazon, just like a real book! You can also still do so from TFAW.com. Some people have asked if we're doing a version for Kindles, and as far as I know, yes, although there're still some fine details to be sorted out. Other people have asked if there will be an audiobook, and then gone on to ask if it will be read out very quickly, the smartarse cunts.
updates - features - essays - reviews - comics - games - novels - about - contact - forum - links
Previously on Fully Ramblomatic...

20/3/10: Mana From Heaven
ZPs to date: Dante's Inferno, Bioshock 2, Aliens Vs Predator and Heavy Rain.
Well, today's the big day. The Mana Bar will be open to the public for the first time from 12 noon to 12 midnight. I'm going to be around apparently so that people can challenge me at Guitar Hero. Which I anticipate losing frequently at because I know for a fact that, as nerdy as I am, I could never hope to be in the same league as some of my fans. Anyway, the friends-and-family night on Thursday went well as did the VIP and media event last night. Today will be my third consecutive night of forced partying, but just like the 500 people who have pledged to show up to our 50-person venue today, it's not really a problem I can complain about.
Mogworld's final draft is done and we're moving into the marketing phase. It's now available for preorder in the US from TFAW.com, and should become available for international preorders when it gets an entry on Amazon, hopefully in the next few days. Beat the rush!
UPDATE: Almost forgot: Guitar Hero competition at the Mana Bar, tonight (Monday 22nd) from 7:30. Compete as bands of three (guitars and drums) or alone. Scores given for skill and showmanship. Prizes to be won! Compered by me! Blimey!
UPDATE UPDATE: Tomorrow night (Tuesday 23rd) is trivia night at the Mana Bar, going from 7 to whenever we're done. Teams of 2-6 players! Questions on both gaming and general knowledge! Also prizes to be won! Also compered by me! Also blimey!
updates - features - essays - reviews - comics - games - novels - about - contact - forum - links
Previously on Fully Ramblomatic...

21/2/10: The Dog Days
Remember when I used to update this site every day? Blimey, what exotic substances was I pumping myself with back in those days? Oh yeah, I didn't have a weekly video to make, a novel to edit, and a bunch of various other personal projects and creative partnerships. Anyway, as yet unmentioned ZPs: Bayonetta, Dark Void, Borderlands and Mass Effect 2. Each one of those also has a spicy Extra Punctuation article that went out the following Tuesday, and which I can't be bothered to find links for.
I also (if the damn thing's finally working properly) embedded some Twitter on the left there, so this site can have something approaching regular updates again. Besides that, not much else to report. Maybe I'd update more often if more things were happening, but so far everything's pending: the Mana Bar doesn't open 'til March 20th (or at least, that's the current estimate, disregarding being fucked around by local government bureaucracy which frankly has been going on for about two years), and Mogworld doesn't come out 'til August. Final draft's still being worked on.
updates - features - essays - reviews - comics - games - novels - about - contact - forum - links
Previously on Fully Ramblomatic...

21/1/10: Bitterati
ZPs: Torchlight and Darksiders. Also, there's an appearance of me on this week's ENN.
So it seems I registered a Twitter account. In all honesty, I'm trying to figure it out. It's absolutely bloody everywhere and yet it seems so insubstantial. So I'm going to work the system from within. My username is YahtzeeCroshaw, and now you can get up-to-the-minute reports on all the most excrementally boring things I do in life, if that's your thing.
I seem to have become everything I despise, now that I have Twitter, an iPhone, and Facebook. Yes, I have a Facebook, but I haven't put my real name on it, that's for fucking certain. It's a social networking site, and my fanboys are the very last people I will ever socialise with. So the Facebook profile for "Ben 'Yahtzee' Croshaw" is most DEFINITELY not me. Up to now I've been content to let whoever-it-is live the lie, but he keeps posting absolutely dreadful 'jokes' that are starting to reflect badly on me. So stop it, you little bitch.
Let's see, what else... oh yeah, the Mana Bar is all over the media right now. We've been on news.com.au, the Courier Mail and Rave, as well as a multitude of gaming news sites. Sometimes I wonder if we've set in motion something that will destroy us all. I mean, it's a 50-person venue. It's basically just one big room. And our Facebook page has 4000 followers. If one-hundredth of those show up on opening night with ten friends between them, we have to start turning people away. Which is a good problem to have, for us at least.
Finally, I was watching some old Reeves & Mortimer stuff on Youtube the other day when I realised that Trapped In My Flat, one of their intro songs from their 1993 TV series, reminded me quite heavily of Silent Hill 4, a game about being trapped in your flat. So I spliced the song together with some footage of the game. I was thinking of working it into a post-ZP extra, but it might be a bit too obscure for that. In either case, I'm not terribly happy with it, so here it is on Youtube, a.k.a. the video creator's dustbin.
updates - features - essays - reviews - comics - games - novels - about - contact - forum - links
Previously on Fully Ramblomatic...

9/1/10: Stalk The Mile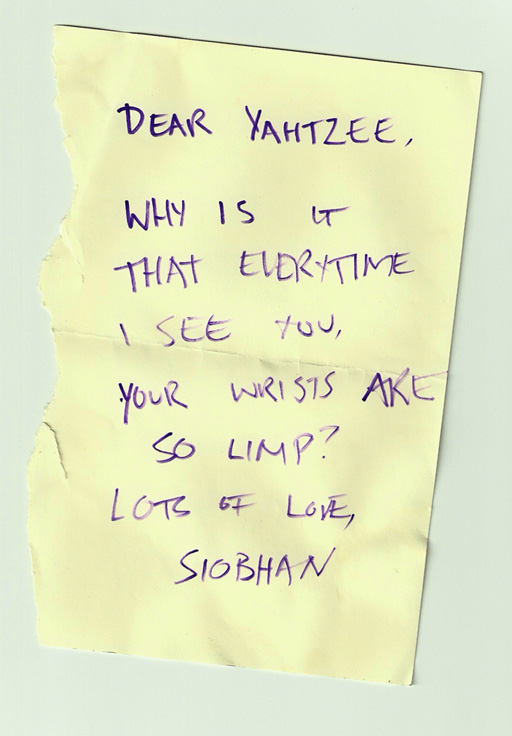 Thank you for writing, Siobhan*. Thank you also for writing it on a scrap of paper and pushing it under the door of the future Mana Bar. In answer to your question, it's because I have very heavy hands.
Who is the enigmatic Siobhan? A Fortitude Valley-going member of the public who had drunk just enough alcohol to think her note was incredibly witty? Is she a crazed stalker writing cryptic messages in the lead-up to kidnapping me from the street and having her devious way with me in a dingy basement? Siobhan, if you're reading this, I am a bit old fashioned and would prefer if we had a drink and dinner somewhere first.
Mana Bar's coming along quite well, we're still hoping to open in February. And Mogworld's coming along quite well too, I've nearly finished the third draft. ZP continues to come along quite well with the latest instalments being Left 4 Dead 2 / New Super Mario Bros Wii, Demon's Souls, The Saboteur and my awards for 2009. All in all, life is coming along quite well. How are you?
* If any players of Trilby's Notes are still having trouble with that name, it's pronounced 'Shuh-vahn'.
updates - features - essays - reviews - comics - games - novels - about - contact - forum - links
Previously on Fully Ramblomatic...

9/12/09: Work 4 Life
ZPs! Hooray! Uncharted 2! Dragon Age! Modern Warfare 2! Assassin's Creed 2! Merry Christmas!
Spent the last few days in Melbourne for GameConnect Asia-Pacific. It was fun. Caught a few sessions. Took part in a panel about how much video games suck, talk about money for old rope. Stayed in a hotel room with a TV in the bath and a minibar full of Kit Kats. It's nice to go to a trade convention and hang around with game developers without the risk of running into sweaty cosplaying weirdos who all expect a hug. And I could do some of the all-important networking, of course.
I'm thinking about getting into some more freelance game writing. I do like getting a chance to practise what I preach. Most of all, though, it's nice to be able to go into an actual office and sit at a desk, where you can actually turn around at any moment and communicate with another human being. That probably doesn't sound so great to you schlubs with regular full-time jobs but I've been working out of my bedroom for two years now.
updates - features - essays - reviews - comics - games - novels - about - contact - forum - links
Previously on Fully Ramblomatic...

8/11/09: Back Back Back
Back from the US now. Actually been back for quite a while, but you know how it is, you go away for a week and all the work piles up like a big heap of mail holding your front door closed. But that's all shovelled away, so we've got time to update the site.
And my goodness me, there have been an awful lot of videos about me on the Escapist lately. We've basically been getting through the backlog of footage that was taken at GameX and various other events, so it's been a good week if you're keen on me. And if you're not keen on me, what're you doing here? Unless you're looking for something to complain at.
Anyway, first there was the interview of me by Susan Arendt at the Escapist booth. Then there was the filming of my Q&A session when I was presenting ZP at the GameX theatre. And of course most recently an amusing digest of the footage we took while we were driving down through Washington DC, a video that took the place of ZP last week to the anguish of many. Check 'em out.
Oh yeah, and then there're the Brutal Legend and Mario & Luigi: Bowser's Inside Story reviews that I haven't linked to yet. Check 'em out too.
updates - features - essays - reviews - comics - games - novels - about - contact - forum - links
Previously on Fully Ramblomatic...

28/10/09: Book Book Book
Still in the US, but having acquired some time and a decent internet connection I thought I'd better chime in and confirm that I'm working on a debut novel with Dark Horse Books, as reported on the Escapist a few days ago:
Mogworld is the culmination of a few years' work from an idea that took root back when I was playing World of Warcraft. It's NOT a graphic novel, as you might assume from Dark Horse publishing it. It's a proper wordy thinky brainy book. I feel that if I give myself free reign to go on about it here I'll end up calling it a lot of pretentious things that it isn't, so at the most basic level it's a fun little comedic fantasy. But it's also a bit of a satire on MMOs, the games industry, and the concept of heroism, and incorporates perhaps a hint of existentialism WHOOPS there I go.
It's coming out in August 2010, but watch this space for more detail as we get closer to that date.
updates - features - essays - reviews - comics - games - novels - about - contact - forum - links
Previously on Fully Ramblomatic...

21/10/09: So Long Suckers
What a lovely day to rattle off the latest ZPs for the benefit of stupid people who still come to this site for their ZP updates: Scribblenauts and Wet. And tomorrow is another one but I like to keep you guessing.
Speaking of tomorrow, that's also the day I leave for the US until the end of the month, in order to (amongst other things) make an appearance at the GameX Expo (or possibly the Gamexpo, I'm never sure) in Philadelphia this weekend. Perhaps I will see you there. If I fail to answer any emails until the 31st, it may be for this reason, or it may be for some other reason (i.e. you suck).
updates - features - essays - reviews - comics - games - novels - about - contact - forum - links
Previously on Fully Ramblomatic...

4/10/09: Tame Ravage
ZP's of late: Beatles Rock Band and Guitar Hero 5 twofer, and Darkest of Days. Is it just me, or are the number of comments steadily going down each week? Am I just losing my touch, or has everyone wised up and realised that commenting on internet videos is viciously futile? Also HOLY SHIT new Game Damage trailer:
We completed a second full-length pilot a while ago as a new pitch to various networks, and this is a three-four minute highlight reel to whet a few appetites. Personally, I'm confident that it would not be overreaching to say that this new pilot is a million billion times better than the first one, and probably all other TV shows in the world, too. Feel free to discuss it on the Game Damage forum.
updates - features - essays - reviews - comics - games - novels - about - contact - forum - links
Previously on Fully Ramblomatic...

20/9/09: Inflexual
ZPs: the limerick-tastic Wolfenstein review and normal-tastic Batman: Arkham Asylum.
On second thoughts, let's not call it being 'asexual'. That feels a wee bit pretentious. 'Celibate' will do. I can still see the appeal of emptying one's grubby little speed bag, I'm just lost on why it's so important that you catch the residue in another person's organic waste paper basket.
But having made the decision to not pursue any of this sex business anymore I've discovered a strange new world I never knew existed.
It's like I've eaten spam a few times from a few popular brands and in a few serving suggestions, and found I'm not really keen on spam, 'cos it's salty and slimy and looks like something you might find in the alien queen's litter box. But I've found myself in a world that's completely obsessed with spam. People spend their entire lives in pursuit of spam. Every single advert on TV sells their product by placing it alongside spam. Movies have to work in at least one spam scene to reach the broadest audience. People break up and get divorced because they don't exchange enough spam. Soldiers are given time out to go have some spam. Low-risk prisoners are given spam visiting rights. People die for spam. Entire economies have been based around spam. Selling spam is the world's oldest profession. The lack of spam has been linked to mental disorders. The only thing getting teenagers through difficult puberty is the thought of one day getting to have spam of their very own.
And when I explain to people that I'm not that into spam they tell me I must be some kind of hopeless cissy girl, or that I just haven't found the right spam yet. It feels like when a theist says "I'll pray for you." Or when a parent of some hideous mewling womb dropping says "You'll understand when you have one of your own." Quite infuriating. It's just tinned meat, guys.
But on the other hand, as a white middle-class anglo-saxon male between the ages of 18 and 35, it's fun to be in a minority for once. Finally I've got my very own thing I can get offended at. This must be why gay chaps always seem to be having such a good time.
updates - features - essays - reviews - comics - games - novels - about - contact - forum - links
Previously on Fully Ramblomatic...

6/9/09: Zzzzzzzzz- WAAAGH
Oh blimey it has been a long time since my last update. I'm still having problems connecting to my FTP from home and circumstances prevented me from finding a different connection up 'til now. Still, least said, soonest mended. Here's some housekeeping in case anyone's still around.
ZP's up to now: Red Faction Guerrilla, Wii Sports Resort, Call of Juarez: Bound In Blood, The Conduit, Silent Hill 2, 2.5D Hoedown and Tales of Monkey Island. Phew. Don't forget to read each one's respective Extra Punctuation column!
Some people complained that my horrible Irish accent in the Tales of Monkey Island review made me even harder to comprehend, so here's a transcript of the Irish bits. Don't spoil it for yourself if you haven't seen the review yet, just reveal it if you are one of those who were having trouble. First Irish bit:
Oh faith and begorrah, look at this lovely pirate game I've honestly never heard of. You play a pirate named Guybrush Threepwood, coh, what a silly name, who accidentally releases an evil plague upon all his pirate chums or something, I wasn't really paying attention because I was thinking about potatoes at the time. Sadly the situation can't be resolved by murder like with most games and protestants, so the gameplay revolves around exploration, dialogues, and harvesting every loose object from the four corners of the map and rubbing them all against everything else. Have to say I'm not a big fan of the push me-pull you mouse movement controls, as I was saying to my wife Moira the other day, navigating a 3D environment with a 2D interface is like standing outside the living room window and trying to teach your dog to do his poos on the newspaper.
Second Irish bit:
Ooh shiver me shamrocks, there's some clever puzzle solving to be had here to be sure. The zenith is where you get strapped to a chair and use various signalling devices to instruct a small monkey. But the clever bits are in a minority, and there's an overreliance on puzzles no more complex than finding a weird-shaped key to put into a corresponding hole, which I think is cheating a bit - what is this, Resident Evil? And the inventory system is a bit poor. If you want to combine items - and when you're stuck and have rubbed every item you have on every static object in the world, this is all you have left - you have to go through the little square dance of dragging both items into a little combiney machine and pressing the on button. Don't see why we can't just click one, then the other, seems like that would save me some time which I could have spent beating me wife.
The action takes place over several islands, and they all feel rather empty, with most of the important objects and characters crammed together in one location. In episode 2 you need to find bait and get your ship repaired, and on one island you find a 'bait and ship repair shop'. It's lazy design dressed up as a joke that doesn't even make sense, like putting a fake moustache on a cat's arse. God, what am I on about. Well speaking of laziness, I genuinely thought that the three identical characters on the first island would turn out to be a joke, like they're all the same fella wearing different clothes, but no, turns out they're just all based on the same model and I wasn't supposed to notice.
In other news we're entering a bit of a convention season for games - PAX is on right now, and while I'm not there in person, I did do something for Graham and Paul's LoadingReadyRun panel on the Sunday. In the realm of conventions in which I will manifest corporeally, I'm appearing at the GameX expo (say that ten times fast) in Philadelphia as a special guest. It's going on from October 23-25 so come along and watch me fearfully from fifty yards away like you usually do.
I'm also negotiating appearances alongside Yug and Matt at GenConOz in Brisbane and eGames in Melbourne. And there will probably be a major Game Damage announcement before then. Gosh, what a busy time it's going to be. I haven't even done my tax return yet.
updates - features - essays - reviews - comics - games - novels - about - contact - forum - links
Previously on Fully Ramblomatic...

19/7/09: This Is The News
BONG! Game Damage news!
The new incarnation of Game Damage may well be going places very soon. If this infobyte interests you, citizen, you are hereby advised to follow this twitter. Yug set it up. I didn't. Twitter is balls.
BONG! Zero Punctuation news!
Latest videos have been Ghostbusters and Overlord 2. They are also balls. But the second review is also accompanied by the first edition of my new weekly column on the Escapist. A chance for me to clarify issues and address complaints in a format that doesn't require constant knob gags. Check it out every Friday (or Saturday if you live in Australia like all the cool kids).
BONG! Chzo Mythos news!
After much soul searching I've decided to stop taking donations. The Special Editions for the Chzo Mythos and 1213 have now been made available FOR FREE. Go to the former donation page for the URLs.
There was once a time when donations were pretty much my only means of support. Those days are long gone. I keep myself afloat in plenty other ways now and frankly having the little beggar bowl on there was getting increasingly embarrassing. But there's still avenues if you're a dangerous obsessive who feels they absolutely must give me all of their money - I hear there's this online store somewhere with perfectly good ZP merchandise.
As for making new games, I'm working on a couple of ideas. It's just that all of my free time is gradually melting away. They're interesting ideas, though. And having less free time can be a positive thing. It means I don't veg out and procrastinate as much, and doing nothing makes me antsy. Is that neurotic? Oh well.
updates - features - essays - reviews - comics - games - novels - about - contact - forum - links
Previously on Fully Ramblomatic...

5/7/09: Protomous and Infatype
Once again, sorry for the lack of updates but things are busier like they've never been busy before. I've been spending a lot of time filming, as you may have inferred from Yug's twitter, the big fat blabbermouth.
Anyway, ZP's. Infamous. E3 2009. Prototype (and Infamous again). Sims 3. Also, a rather interesting little article came out of my Prototype (and Infamous again) video, which can exist as another point of evidence towards the fact that I am the secret ruler of the entire games industry.
Haven't done much else, actually. Not that I can talk about, anyway. Workin' on a book. Thinkin' about some more freeware game ideas. Stalkin' some non-threatening middle class young white people. You know. The usual.
Oh yes, people have been asking if I'm gay. Evidently my constant switching between homophobia, homoeroticism, misogyny and effeminism within my writings have made my true sexuality a labyrinthine puzzle. Well, I'm definitely not homosexual. But then, I can't honestly call myself heterosexual, either. I find that these days I am equally uninterested in sex with anyone's holes, and I care even less about romance.
Asexualism, maybe. Celibacy. Whatever you want to call it. But I'm not unhappy. It's possible I'm just too self-centred to form meaningful relationships. If I want companionship I'll just hang out with my mates. If I want cuddles I'll buy an official Zero Punctuation imp plushie (only $9.95!).
updates - features - essays - reviews - comics - games - novels - about - contact - forum - links
Previously on Fully Ramblomatic...

3/6/09: Histrionic Commando
ZP this week is Bionic Commando (last week it was Duke Nukem Forever, sarcasm quotes), and I wanted an opportunity to talk about the twist ending. So if you're still playing the game or care in the slightest about having the plot spoiled, try not to accidentally trip, fall forward and highlight all of the following text.
Okay, so your chap has a great big robot arm. It shoots a grappling hook and can punch people into space. He has it because he lost an arm in a war or something and the government made him better, stronger, faster, etc. At around the same time his wife disappeared, leaving only a note, but our hero suspects that there's more to it than her simply doing a runner.
At this point I wasn't really expecting that subplot to have any sort of twist, because it made perfect sense to me. Obviously his wife left him because she was creeped out by him being half robot monster (and the game establishes that this is a common feeling amongst normal humans), and judging by his violent tendencies he probably wasn't above smacking her around a wee bit. Our hero keeps yelling on about WHURR'S MAH WAHF throughout the entire game so I was expecting it to be revealed that she'd gone off on her own accord and he was just a jealous clingy ex. That would have been a very human and relatable scenario.
But then comes the twist. At the very end of the game it is revealed to us in flashbacks and old records that bionic limbs require a human mind to function, and that it has to be someone close to the recipient. So in order to create your bionic arm your asshole superior kidnapped your wife, cut her brain out and put it in the arm.
The description I just gave was a little bit dry, so go back and read it again in a really sarcastic tone of voice. This is the bit where I clutch at the brim of my hat and yell "WHAT?!"
This doesn't make even the slightest bit of sense. Firstly, your arm is ENTIRELY mechanical. It shoots hooks on the end of a bit of string, that's ALL it does. There's no evidence (or even any particular need) for it to contain any kind of intelligence, not even the AI of one of the Pacman ghosts. If the game had established that there was some kind of support AI inside the arm that showed you where to go and gave you advice, Navi-style, the twist would have been an appropriate payoff, and may even have made us a bit guilty for inevitably hating the chatty bitch. But it's JUST A MECHANICAL ARM. You pull a switch and it fires a hook. It'd be like needing HAL 9000 to power your electric toothbrush.
On top of that, what possible fucking use would a brain be in the thing? You can't reel the string back in by thinking really hard. You can't regenerate the explosive material necessary to fire the hook by conjuring it from dreams. The only possible use I can think of is to guide the trajectory of the hook to hookable places, but this is a function that could EASILY BE PERFORMED BY THE BRAIN OF THE PERSON WEARING THE BLOODY THING.
But let's just assume for a moment that the mechanics work. Why not. A human brain is the only thing that can make a grappling hook launcher create enough pulling strength to support a full-grown human and an arm the size of a caravan, much more efficiently than, say, a really powerful winch. Assume that all makes sense. Now. How the fuck do the military get away with this shit?
Surely the many bionics would have noticed that every single one of them had a close friend or relative disappear at the time of their accident? If not, surely SOMEONE involved with the project would raise a stink about the STAGGERING lapse of ethics and the inevitable lawsuits such a policy would create. And considering that risk, was there really not a single other solution to the hardware issue than stealing people's brains? Come on, get the techies in the meeting hall with a weekend's worth of pizza and Jolt and I'm sure they could come up with something, ANYTHING, that doesn't entail Dr. Frankenstein-esque organ harvesting. Like, say, an artificial intelligence. Or a REALLY POWERFUL WINCH.
Worse yet, it instantly removes any decent characterisation the wife may have had. She's just now and always been a personality-less non-individual whose life revolves around the hero. And he's just a noble injured party looking for his twoo wuv. YAWN A RAMA.
What a stupid mess they made of that plot. I'm going to play Infamous instead.
* BONUS INFAMOUS ENDING SPOILER *
Oh okay so the big baddie was actually you from the future? Well that sounds perfectly reasonabRRAAAAH YAHTZEE SMASH STUPID PLOT TWISTS
updates - features - essays - reviews - comics - games - novels - about - contact - forum - links
Previously on Fully Ramblomatic...

23/5/09: Half Twit
ZPs since last update: Siren Blood Curse, Riddick: Dark Athena, Valkyria Chronicles and Velvet Assassin. Phew.
Also, I did another podcast with Yug and Matt the other day. For the benefit of people waiting to see something come out of GAME DAMAGE, yes, there is something happening, and it may be happening sooner than you think. As to where that something will end up being broadcast, watch this space. Or better yet, watch this space.
People ask me if I have a twitter. No I do not. You twats. Firstly because it's another short-lived internet trend to soon go the way of Napster and Chuck Norris jokes. Secondly because I agree with the point Lore Sjoberg made once in that there's nothing more unfathomably dull than any given individual's answer to the question "what are you doing RIGHT NOW", especially when it's usually going to be boring enough that they felt they had to update a fucking microblog while they were doing it. And thirdly because most of my entries will probably be along the lines of "I'm supposed to be writing something, but instead I am watching old British sketch shows on Youtube. I hate myself."
But if I did have a twitter, here is what I would say on it today: "It is my birthday tomorrow. I am 26. That means I am officially in my 'late' twenties, rather than 'mid'. This thought weighs strangely heavily on the beginnings of my receding hairline. I probably ran out of characters just now."
updates - features - essays - reviews - comics - games - novels - about - contact - forum - links
Previously on Fully Ramblomatic...

25/4/09: I Am Objectively The Best
ZP this week was HAWX.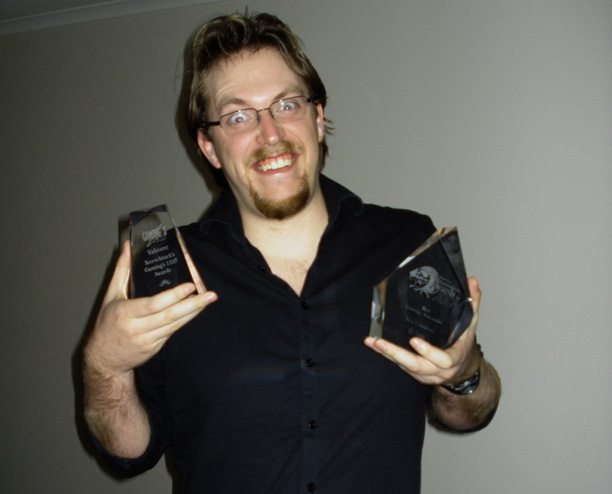 Here's a recent candid shot of me idly hanging out with my awards from 2008.
That's the Screwattack Gaming's 1337 award for Best Reviewer on the left and the Sun Microsystems IT Journalism award for Best Gaming Journalist on the right. And now you can help us win even more awards by voting for the Escapist in the People's Voice Webby Awards and helping us take it home for a second year running. Only takes a second of your time, and really, have any better gaming sites magically materialised since last time? Didn't think so.
Don't you think it's weird how so many awards these days look like rough crystal formations freshly carved from the rock? Oh I guess you wouldn't know because YOU DON'T WIN AWARDS
updates - features - essays - reviews - comics - games - novels - about - contact - forum - links
Previously on Fully Ramblomatic...

16/4/09: Chzo Joke
ZPs since last update: Halo Wars, GTA: Chinatown Wars and Mad Wars. Er, Madworld.
Recently I was given cause to reminisce about a game I played through a while back - Call of Cthulhu: The Dark Corners Of The Earth, an underrated little adventure gem with some nice little touches if a little bit too reliant on a dodgy combat system. With this in mind, I decided to actually sit down and read some of H. P. Lovecraft's stories, for the sake of context.
All I can say is, blimey, old Howard P. must have been being paid by the word, the verbose little git. And I'm surprised how closely Dark Corners adhered to the plot of Shadow Over Innsmouth. I assumed that whole 'ancient underwater city of the Deep Ones being destroyed by submarine in a US naval operation' was a little bit too video game-y to have been in the original text, but there it was. It's also interesting how much casual racism Howard P got away with back in his day. The prize for that I think goes to the bit in Herbert West: Reanimator where he goes on about how a zombie negro wasn't much more ugly before the whole zombie thing.
Anyway, finding myself inspired I wrote a bit of Chzo Mythos tie-in fiction, and originally I think I was deliberately trying to do it in old Howard P's style, but that sort of went away at some point. Here's a passage:
It stood, slowly unfolding its body like the raising of a great and forbidding black tower, and while only half its body was visible, silhouetted against the rising daylight, I could see that it was humanoid. Only by the greatest stretching of the term can I say this, however, for beyond the fact that it possessed two arms and two legs, there was very little that was human about it. It was grotesquely tall, close to eight feet, but with a small, elongated head. Most of its body was concealed under a long black garment that reached down to the floor, more ornate and substantial than the usual robes worn by the sentient residents of this world.
Gosh, I wonder what the narrator could be describing there. Anyway, here's the full text if you're interested, but don't click it yet, I want to give a head's up. HEAD'S UP! This is NOT A FUNNY STORY. This is a horror story intended to tie into some of the darker elements of the Chzo Mythos series, particularly Trilby's Notes. If you want something funny try to imagine that all the characters are chimps. Nazi chimps, so you don't feel bad when they all start dying in nasty ways. Anyway, it's called The Expedition.
updates - features - essays - reviews - comics - games - novels - about - contact - forum - links
Previously on Fully Ramblomatic...

28/3/09: Ret's Pray
Bonus update 31/3: I'm doing a bit of an Escapist video crossover with Graham and Paul of Unskippable this week. Watch me intrude upon their latest episode here.
ZP targets up to now: House of the Dead: Overkill, 50 Cent: Blood on the Sand, and Resident Evil 5: No Subtitle Given. There was another complaint I wanted to mention about RE5 but it seemed so hopelessly petty I figured I'd edit it out and put it here: Why do your characters make so much bloody noise when they're running around? Rustle, rustle, rustle, all the way, it's like they've got their feet trapped in Weetabix. I don't know, it just got on my tits.
I've been watching a lot of Let's Play stuff lately. This is something that grew out of the Something Awful forums and Youtube - basically someone takes it upon themselves to dissemble the entire course of a game into screenshots and videos, annotated with their own commentary. Some LPs are there to highlight an underappreciated gem, some to tear apart a big fat turd, but a well-conducted one is always a criminal timesink for me. Mileage may vary, but such things are extremely useful if, like me, you're occasionally expected to blab knowledgeably about video games and there aren't enough hours in the day to play them all. For example, I've never played any Resident Evil all the way through besides 4 and 5, but I know pretty much everything one needs to know about the gameplay (crap) and the story (craaaap) thanks to various amusing runthroughs by SA forum poster The Dark Id.
Of course, the quality of the LP depends on the author, and talent isn't something that they hand out with AOL free trials. I wouldn't give any Youtube LPs the time of day, frankly. Dark Id's work is all put up on a site imaginatively called the Let's Play Archive. My sole LPing effort from a while back is up there too, one of the old Delphine platformer Flashback, which I would immodestly call quite entertaining. I also recommend these ones, and you should find some good stuff from a good old explore on the dedicated SA subforum.
updates - features - essays - reviews - comics - games - novels - about - contact - forum - links
Previously on Fully Ramblomatic...

6/3/09: Explaining Myself
ZP this week was Spider-Man: Web of Shadows, a rather obscure game from last year. Some of you have been a little perplexed by this choice when such red-hot titles as Street Fighter 4, Killzone 2 and Resistance 2 are jumping up and down in front of my nose clamouring for attention. I thought I'd take the opportunity to write about this eloquently without having to think of a dick analogy every other sentence.
Street Fighter 4 can be simply explained; I don't give a shit about Street Fighter 4. Or less inflammatory, I don't 'get' Street Fighter, or fighting games in general. They're certainly not deep enough to get a full-length review out of. As single player games, they're little more than one element of a game extended out into something you can justify selling for 60 bucks. They're chiefly for playing against other people, which is one point against it for me already because I don't have any friends. But when I do play against another person, if we're both novices, then both of us are really only going to be smashing the controls randomly, and losses and victories consequently don't have much in the way of impact.
Alternatively, you spend embarrassingly large amounts of time playing over and over until you know all the special moves and character strengths, and presumably compete against people of an equivalent level. And then victory comes down, not to skill, but to whoever can reliably remember the appropriate button combinations on the fly. I find them all breathtakingly asinine. Please send me emails filled with cunning arguments that will completely alter my personality until I can retract this statement. I will burn them. All of them.
As for Killzone 2 and Resistance 2, basically I'm just so fucking bored of shit like this. The improbably Warhammer 40k-esque power armour. The automatic healing. The overcompensating macho beefcakes with voices like they've had their lips clamped around exhaust pipes their whole lives. The schizophrenic design-by-committee flitting between whiny drama and goofy wisecracks. The obligatory female support character with the no-nonsense attitude and permanently cocked hips. The monstrous, dehumanised, unequivocally evil baddies. The inevitable betrayal from the jaded authority figure. I've gone through the same banal motions so many times it's increasingly hard to talk about them in any meaningful or interesting way.
But you know what? I'm pretty sure that a lot of this is my fault. I've long been resistant to get out of my comfort zone when it comes to games. Won't play sports games, won't play fighting games, won't play strategy games, won't play JRPGs, ADAMANTLY won't play multiplayer on consoles, these severely limit my capacity to relate to gamers worldwide. Now, virtually no-one likes *all* kinds of games. That's why most sites and magazines hire more than one reviewer, so that they have at least one hopeless antisocial weirdo on board they can offload all the new Total War games onto. But that's no reason to not at least try to expand my horizons. That's why in the near future I'm going to embark upon a voyage of discovery to see if I can find shiny colourful nebulae hiding in the dark unexplored horrors of the gaming universe.
This has been a warning to both of us.
updates - features - essays - reviews - comics - games - novels - about - contact - forum - links
Previously on Fully Ramblomatic...

28/2/09: Pod People
I did another podcast with Yug and Matt to tide over fans of our three-way dynamic. And on that subject, Game Damage is indeed in motion, even if we've all been a little quiet about it lately. We're in talks with a couple of parties with lots of free money and we'll almost certainly be making it in some shape or form. So, good news there.
As Yug also lets slip in the podcast, he and I are also partners in another business venture, namely the opening of a gaming bar in Fortitude Valley. Not, I hasten to add, a LAN cafe; this will be an adult drinking establishment which also happens to feature various games that one might play with one's buddies while drinking at home. Rock band, Wii games, that sort of thing. We've got a nice little venue up Brunswick Street (on the nice side of the mall, not the scabby side where the station is) and we're looking into getting open a few months from now. Come down some day to hang out. I will ignore you.
STOP REMINDING ME TO CHANGE THE DATES ON THIS SITE TO 2009 YOU FAGS AARGH
ZPs: Skate 2 and FEAR 2 (both sequels, you'll note AARGH)
I swear there was something else I was meaning to put here. I'm thinking of growing my beard out? Nah, that's stupid irrelevant bullshit no-one cares about. Sorry, I mistook this site for Twitter.
updates - features - essays - reviews - comics - games - novels - about - contact - forum - links
Previously on Fully Ramblomatic...

12/2/09: Burner's Permit
The Game On exhibition at the state library in Brisbane is doing another of its Game On nights tomorrow (the 13th) from around 6pm. Yug and Matt and I will be showing the pilot of Game Damage in a public forum and answering questions afterwards, with most of the answers probably going to be along the lines of 'yes, we know, we'll fix that when we have money'. Come along for fun times.
For the benefit of all the well-wishers, let me give a blanket response: I don't live anywhere near the fires in Victoria, you bloody idiots. I live in Queensland, which is a much damper place on the other side of the bloody country. And it's a bloody big country full of a whole bunch of bugger all. Asking after my wellbeing is like asking after the wellbeing of someone in Sweden because a fire broke out in Portugal. Yes alright, Americans, go and look up where those countries are, I'll wait.
ZPs of late: Gears of War 2, Little Big Planet, and the Thief series.
updates - features - essays - reviews - comics - games - novels - about - contact - forum - links
Previously on Fully Ramblomatic...

24/1/09: Some Kind Of Game Pun
Oh blimey, it has been a long time since I updated last. Apologies for that. My home network still won't let me onto my FTP and the other network I usually use crapped out on me an' all. Let's see, what ZP's have we missed... Left 4 Dead (not bad), Sonic Unleashed (shittiest shit in the shithouse), the year end clip show (not my idea), Prince of Persia (could've been worse), Awards for 2008 (aha), Tomb Raider Underworld (ugh) and FarCry 2 (ehh). For future ZP updates, don't watch this space, whatever you do. Watch some other one. Digg, maybe.
Also, the pilot for
has been up for a while, and the full 23-minute episode is free to be viewed by one and all. We've gotten some positive feedback, and a fair bit of negative feedback, too. But I'd like to point out to the detractors that this is pilot, by their very nature experimental, and that we're still groping around trying to create the ideal format. So despite your intentions your slanging inadvertently helps us. HA HA WE WIN.
The big words up there are a link. In case you missed that here's another one.
Oh yeah, and happy Christmas, I guess. And New Year. And anything else that came up.
updates - features - essays - reviews - comics - games - novels - about - contact - forum - links
Previously on Fully Ramblomatic...

6/12/08: Game For A Laugh
ZP this week is Mirror's Edge, just in case there's anyone left out there who might experience brain damage and want to buy it.
Next Friday (the 12th) I'm taking part in a talk as part of the Game On exhibition once again, who have now moved up to Brisbane, my city of residence. I and Yug and Matt will be talking from around 6:30 on games, game reviewing, and the difficulty of keeping our breath minty fresh. It's at the State Library of Queensland, and I can't seem to find a website that confirms what I'm saying, but we will nonetheless be there. Come and check it out, as long as there aren't 300 of you or something.
Game Damage will be out 'soon'. It's complicated.
updates - features - essays - reviews - comics - games - novels - about - contact - forum - links
Previously on Fully Ramblomatic...

29/11/08: Damaged Goods
Again, sorry for the lack of updates lately but I'm still being jollied around by my connection at home and I can only update this site from someone else's internet for some reason. Maybe my home internet pipes got clogged somehow. Anyway, a few pieces of housekeeping to get through. The last few ZP reviews: Fable 2, Fallout 3 and Guitar Hero World Tour. In summary: lame, alright, and alright.
There's also the matter that ScrewAttack is holding nominations for the... ugh... 'Gaming's 1337' awards, and you can nominate any reviewer and game-related website you fancy, so obviously I'd fancy that you nominate me. Just go to this site and fill in 'Yahtzee Croshaw' for Best Reviewer and http://www.escapistmagazine.com/videos/view/zero-punctuation for the appropriate URL. You can nominate once a day if you feel like cheating on my behalf.
And while you're there, why not nominate the Escapist for best Gaming Website? That should put me back in their good graces after things I may or may not have said on the eGames main stage.
Linking on from that, I should also mention that Game Damage
Game Damage
is on the verge of splashing itself all over the internet's face, with the pilot - of which I assure you we are all very proud - probably going to be released sometime next week. In the meantime head on over to the site as it currently stands. There's a forum set up already so feel free to sign up and embarrass yourself with baseless assumptions about what exactly we're going to dump on you. God knows we could use some people other than Australian Gamer forum members posting.
updates - features - essays - reviews - comics - games - novels - about - contact - forum - links
Previously on Fully Ramblomatic...

8/11/08: Roll Up Roll Up
THRILL! To the freakish and spectacular displays of Yahtzee, the world's most overpaid person of indeterminate role in the games industry!
SEE! His Zero Punctuation review of Dead Space, in which Yahtzee picks apart every slightest flaw while falling from a high trapeze into a bucket of milk!
HEAR! His latest podcast collaboration with Australian Gamer, in which he wrestles with the world record for most contextual references to female genitalia!
FEEL! The smugness wafting through the air when he appears at the Melbourne EGames Expo next weekend as special guest! SCREAM as he courageously hosts the Gaming Trivia Quiz while balancing babies on a wolverine (baby volunteers needed)!
DON'T MISS THIS NEVERENDING CAVALCADE OF ONE MAN WITH TOO MUCH TIME AND MONEY!
In all seriousness, do come along to EGames next week, it's good to get involved with your games industry. Anyone who shows up to the quiz I'm hosting has the chance of winning REAL ACTUAL PRIZES. It's from 4:45 on the Saturday (November 15th) but I'll probably have nothing better to do than hang around the stage all weekend anyway.
There's also going to be a special sneak preview of Game Damage (try to imagine that being said in a booming, messianic voice). It's a little project me and the usual chums have been working on and we like to think it's not completely horrible. Come one, come all.
updates - features - essays - reviews - comics - games - novels - about - contact - forum - links
Previously on Fully Ramblomatic...

1/11/08: Merry UnChristmas
Sorry about the infrequent updates of late, my new home network seems to be having a disagreement with my FTP and I'm having to update my site via other people's internet connections, preferably without them finding out. Last two reviews were the much anticipated Silent Hill Homecoming and the surprisingly non-horrible Saints Row 2.
It really is insane how many big-name titles are being released in October and November this year, rather than the traditional December pre-Christmas glut. Best guess is that the economic crisis made publishers nervous and they couldn't wait any longer to feel the warm kiss of money rubbed lovingly upon their fat apple cheeks.
updates - features - essays - reviews - comics - games - novels - about - contact - forum - links
Previously on Fully Ramblomatic...

16/10/08: Me Me Me Me Me
ZP this week is STALKER: Clear Sky. What fun we're having.
This week I've also been expanding my media empire. Firstly, there's an op-ed piece by me up at news.com.au concerning Silent Hill and the censorship issue. Wow, it's almost like I'm a real journalist all of a sudden. Here's a sample:
If you try to oppose changes such as these you have to argue that gore is essential to the intended experience, which isn't the case and makes you come across as slightly psychotic. Let the censors have their petty moment of fuss – I hope their victory feels satisfying from their little temple of total bloody irrelevance on the moon.
My second mainstream media appearance of the week is an appearance in Marcus Westbury's interesting documentary series Not Quite Art, in which he examines the new frontiers of culture and its pioneers. Marcus was in Melbourne for my last ACMI appearance and we shot a bit of a segment. Anyway, the show was finally broadcast on the ABC (that's the Australian ABC, not the other, fatter one) the other night, and it's online at the above-linked website for all to see.
My bit's from around the nine minute mark. You can tell because an incredibly un-photogenic thing will be on screen sounding like a douchebag.
updates - features - essays - reviews - comics - games - novels - about - contact - forum - links
Previously on Fully Ramblomatic...

10/10/08: Agqwjbfjasc
Oh right, shit, there's this website I update sometimes. Last three videos in order were the XBLA double bill, Mercenaries 2, and Star Wars: The Force Unleashed. Though anyone who still comes here for their ZP reminders are probably weird.
Thanks to everyone who keeps sending me helpful reminders on what games I should review. Somehow the fact that Silent Hill 5 had come out slipped by me because I'm a video game media professional and as such are too busy... hang on, let me just look up what a video game media professional does. (rustle rustle) What? Knows things about video games? Well slap my granny, I guess I must have known about Silent Hill 5 all along. FUCK. FUUUUUUCK.
updates - features - essays - reviews - comics - games - novels - about - contact - forum - links
Previously on Fully Ramblomatic...

19/9/08: Balls E
Last two videos were Too Human and Spore. People were asking me why I didn't mention the DRM fiasco with Spore. Truth be told, I didn't actually know about this until someone told me the other day. I guess that goes to show just how hugely significant it is to the actual game experience.
Incidentally, I was dragged to see Wall-E last night. Now, objective quality of that film and possible anti-corporate agenda aside, here's a small plot synopsis:
One or more lovable protagonists have existed for some time in a stable but fundamentally flawed routine, which is shaken up by the introduction of a foreign entity, usually another character, around whom attitudes are initially hostile. Attempts to deal with this character eventually lead to the protagonist(s) discovering a new, unfamiliar world, and in doing so discover the nature of the fundamental flaw in their routine. Villains are usually introduced or only become truly villainous from around the mid-point or quite late into the film. Along the way the heroes enlist the help of various lesser characters with clearly definable quirks and at one point reluctantly enter a high-speed chase. The villain is generally finally defeated with surprising ease, and everything concludes in an emotionally manipulative ending in which routine is restored with the fundamental flaw excised.
Now, consider how many Pixar movies that could be describing. Consider it, me bitches.
updates - features - essays - reviews - comics - games - novels - about - contact - forum - links
Previously on Fully Ramblomatic...

6/9/08: Surprise! Another update
Funny I should have mentioned horrible webcomics the other day, because my girlfriend discovered recently that she could imitate the style of Ctrl+Alt+Del with amazing accuracy, and while she treated this discovery with a due sense of horror and disappointment I took the opportunity to ask her to do a comic I could write the dialog for. So here it is. We're both very, very sorry.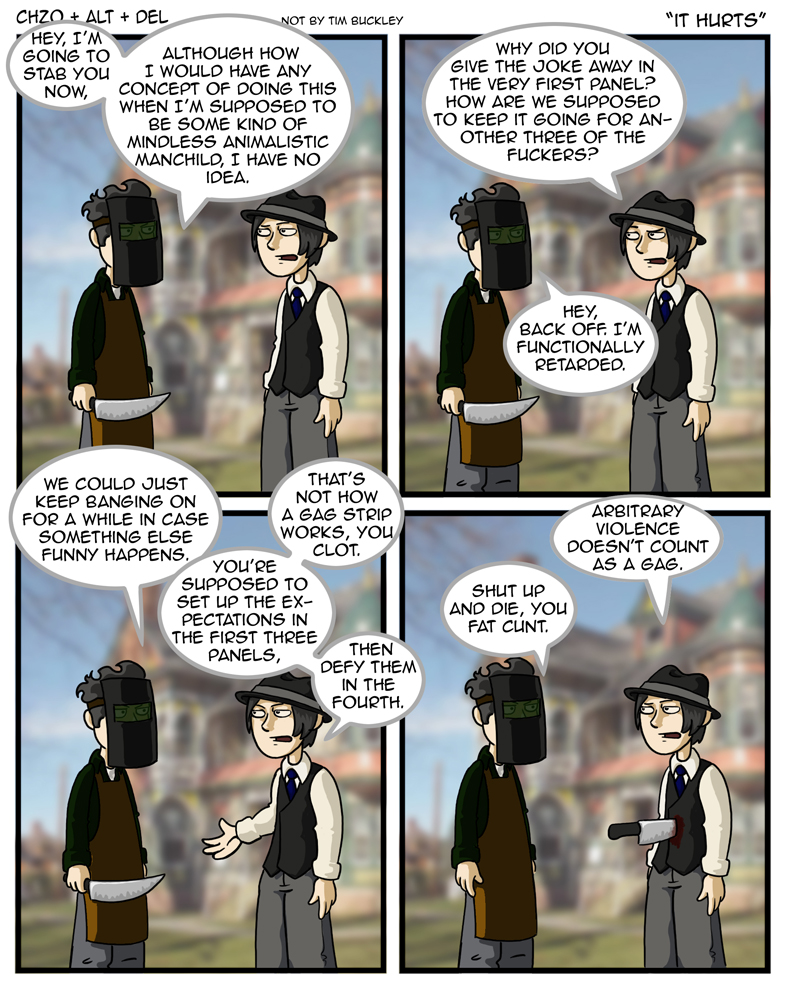 Also, I did another podcast with Yug and Matt for Australian Gamer the other night. And another one the week before, actually, but we were very drunk.
updates - features - essays - reviews - comics - games - novels - about - contact - forum - links
Previously on Fully Ramblomatic...

4/9/08: The Fortnightly Update
Braid was last week, this week's ZP is Eve Online. Predictably enough the humanoids who are really into Eve have been on at me, stating that Eve only becomes a fun game once you get involved with the corporations set up by other players. In response, I might ask those people "Why are you paying the developers 15 dollars a month to do their job for them?"
You know what I hate about the internet? You can't take back anything you put on it. I'm usually content to let my older, terrible stuff exist because I would hope that people understand that I was young and still learning, and that you have to get the bad stuff out of your system if you ever hope to improve. But I've been noticing around the place that some people tend to think the very fact that something is on the internet implies that its author totally thinks it's still worth two tugs of a dead dog's cock.
So, just to be on the safe side, I totally disown every webcomic I have ever made (excepting ZP if you count it as a webcomic, which it seems Wikipedia does). From any standards they are universally dreadful. Anyone who says otherwise should be disregarded because, as the creator, my opinion outranks theirs. And while we're on the subject, all the games I made before Odysseus Kent were badly drawn and clumsily written. And if anyone happens to know where to find any fiction I wrote before the age of 20, please throw it into the nearest convenient natural disaster.
updates - features - essays - reviews - comics - games - novels - about - contact - forum - links
Previously on Fully Ramblomatic...

21/8/08: Hope Floats
So this week's review was Soul Calibur IV, a predominantly multiplayer console game, so obviously I forced it to live up to the single player experience and hated it. But hey, I did play some rounds against my roommate and spamming throws seemed to work alright there, too.
Oh yeah, and last week was a retrospective on the Prince of Persia series. Guess you'd be better off going to the Escapist for regular ZP updates, hm? And why not click on some ads while you're there.
Anyway, it's been a while since I threw a bone to my own website, so I uploaded an old short story I wrote ages ago and didn't do anything with. I had to trim it and edit it a fair bit before I didn't hate every bloody word, so it's not like I'm avoiding work or anything. Here's a sample:
Over the next few months, that sub sandwich earned a sort of legendary status aboard the Endeavour as the lunchtime snack that destroyed us all. For one or two days before the end, a couple of people had even started using 'sandwich' as a curse word. As in, "Oh sandwich, we're all going to die."
It's called The Hopeless Endeavour. Don't worry, it's not based on any existing characters of mine. Check it out.
updates - features - essays - reviews - comics - games - novels - about - contact - forum - links
Previously on Fully Ramblomatic...

10/8/08: Ninja Something
Ninja Gaiden 2 was the last ZP review and oh bloody bleeding christ (probably shouldn't click that link if you're reading this at work, slacker). To the sweating entity who drew this, it's nice to know I can inspire you, but I'm depressed about my cultural legacy as it is. Besides, they make you wear tiny little thongs in Age of Conan if you take your pants off.
updates - features - essays - reviews - comics - games - novels - about - contact - forum - links
Previously on Fully Ramblomatic...

1/8/08: You Can Never Go Home
ZP last week was Age of Conan, and this week it's a rundown of trailers that came out of E3 in an attempt to stamp on the embers of what little excitement the lacklustre event managed to create.
You know, being new to this whole 'fame' business I'm surprised by how many things I can't do anymore. For example, if I'm browsing forums and I read an interesting thread that isn't something to do with me, if I post an incidental comment about whatever the subject is then the thread immediately derails into people going 'make a video about it' or other examples of priceless wit. I used to be one of the guys, you know. I used to be another faceless contributor in a wall of opinion. I miss those days.
Of course, the obvious solution is to re-register with a different username. Of course this doesn't help if your favourite forum is one that require a credit card payment to register, and if you don't have a credit card, and you got your last account with a gift certificate, and if you're an English ex-patriate called me.
But the thought did cause me to wonder about the people behind the thousands of faceless names you interact with on a daily basis on the internet, because it seems any famous person will obviously use a false name and deny their true identity for the same reasons that I would. And then somehow I managed to convince myself that everyone on the internet besides me is Bruce Willis, but that was around the point that I noticed a stain on my wall that looked like a dog's head, and I had to start thinking about that instead.
updates - features - essays - reviews - comics - games - novels - about - contact - forum - links
Previously on Fully Ramblomatic...

19/7/08: Pee Three
All my Escapist pals have buggered off to E3, scarcely sparing the time to put up my Alone in the Dark review before swanning off to watch Sony talk about how much money they make and view exclusive previews of the next generation reboot of ET for the Atari 2600. I've been left all alone in my little Brisbane flat to sullenly watch the videos as they come online, but that didn't keep me from joining Yug and Matt for a podcast on the subject.
Anyway, if anyone reading this hasn't seen the Dark Knight yet, you officially aren't allowed on the internet until you rectify that. I think I should give it a few months and maybe watch it again on DVD before giving a definitive opinion, because being a massive cynic I'm immediately suspicious of any film that appears on the surface to be absolutely fucking legendary.
updates - features - essays - reviews - comics - games - novels - about - contact - forum - links
Previously on Fully Ramblomatic...