BRUCE CAMPBELL'S GET WELL SOON CARD
From the Miami Herald, 28/7/03:
RUCH, Ore. - Bruce Campbell, an actor whose credits include "Evil Dead," "Hercules," "Xena, Warrior Princess" and "Spider-Man" suffered minor injuries in a weekend accident.
Campbell, 45, of Jacksonville, was driving late Saturday when his car was struck by a Jeep driven by 36-year-old Steven Michael Sellers of Medford.
Sellars, who was ejected from his vehicle and struck the windshield of the Explorer, was listed in critical condition Sunday with head injuries.
Campbell, who has a cult following among horror film buffs, was treated and released from a local hospital.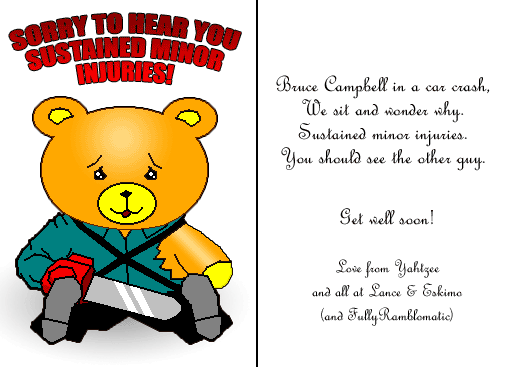 updates - features - essays - reviews - comics - games - novels - about - contact - forum - links